Although there are many opinions on the topic of the origin of Santa Claus, many watch collectors will agree that Switzerland is the most likely his birth place. My wife and I just made a trip over to Switzerland in November to celebrate our 6 month anniversary. Along the way I met a client in Zurich in order to purchase arguably the rarest Vintage VDB watch collection for sale anywhere. Simply put, you cannot find these 6 watches for sale anywhere and each one represents a milestone in the history of VDB. My meeting with my client "Dave" was very enjoyable as we talked for hours about his prized VDB's and their history.
The 1st and arguably the most important watch in my Swiss Bag of Gifts is the Vintage VDB I. You can see it in all its incredible glory in the pictures below, but pictures alone don't do this incredible milestone justice.
This is the very 1st VDB watch which started everything. Besides the Prototype, a total of 8 pieces were produced (3 base, 2 base-lefty, 1 base-pfd and 2 SE) and sold to watch collectors. This piece here is super-special (base with black dial) as it was not meant to be sold but kept by VDB creator & owner Stephan Obst. A Malaysian watch collector was however determined to get a VDB I and as all others were sold out quickly he convinced Stephan eventually to sell this piece to him. My client had been living in Singapore for many years, and came across the collector and the VDB I in Malaysia in 2011. My client was fascinated by the watch and the brand which he had never heard of before and made the Malaysian man and offer he couldn't say no to and with that said, the watch was in his possession ever since then…until now that is! It has all the original Vintage boxes & accessories (check out the very 1st box set pictured…it is made from an old wooden wine box and comes on a special Gunny MI2 black strap. Peter Gunny designed and produced this strap specially for this watch and today the strap is part of his product range.
The 2nd milestone piece is the 2nd VDB model produced and sold out even faster than the VDB I. A total of 15 pieces were produced and my piece was produced as "surplus" for Stephan Obst. Somehow, similarly to the previous story with the VDB I, my client did pester VDB for quite a while to get a VDB II. However, as all were sold, this was the one option left and they eventually agreed to let it go. The watch has a special engraving "SO edition" (SO initials for, you guessed it, Stephan Obst) a unique VDB II dial, and a plexi case-back which houses a stunning vintage Rolex movement with a red rotor.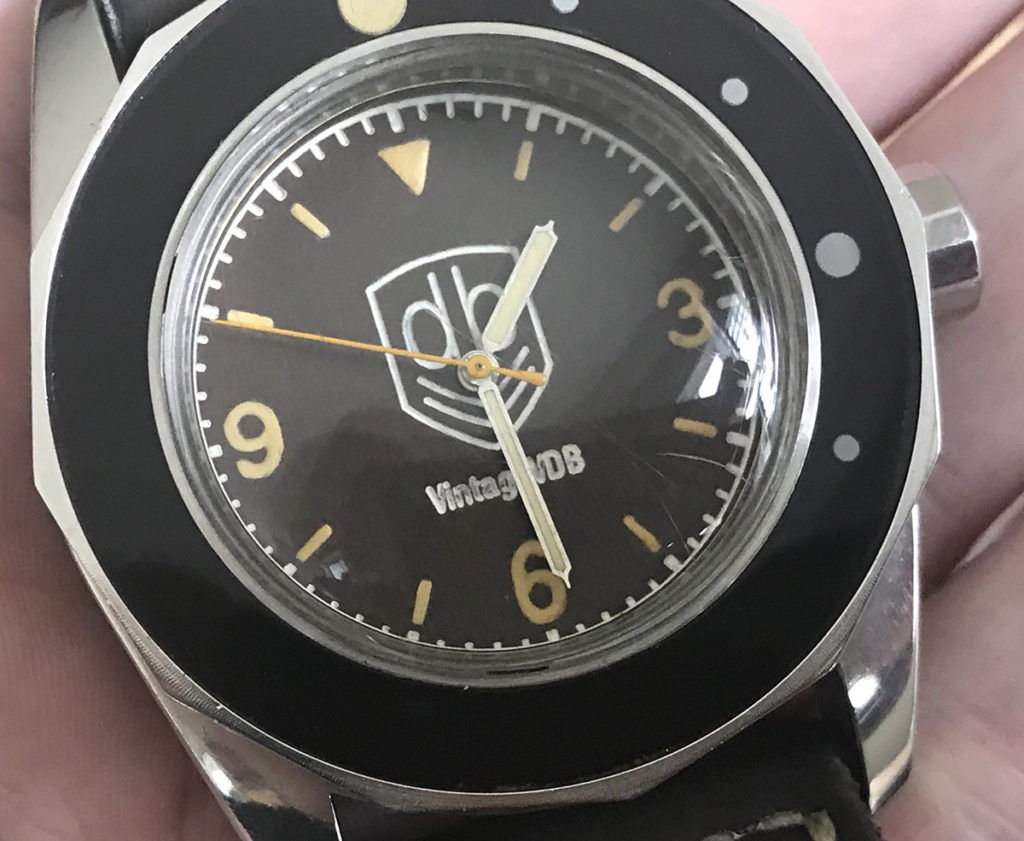 The 3rd watch in my Santa's bag of goodies is the 2nd ever build VDB watch in Tantalum. A wonderful piece of art which did not only incorporate a new material for VDB but many other special features including a very rare vintage Rolex movement with black-blue colored rotor. The article from oceanictime (see link) provides a quite comprehensive summary. My client was the 1st and only owner up until I got my hands, or wrists, on it. The watch comes on a Gunny 74 strap which matches the dial/bezel color perfectly.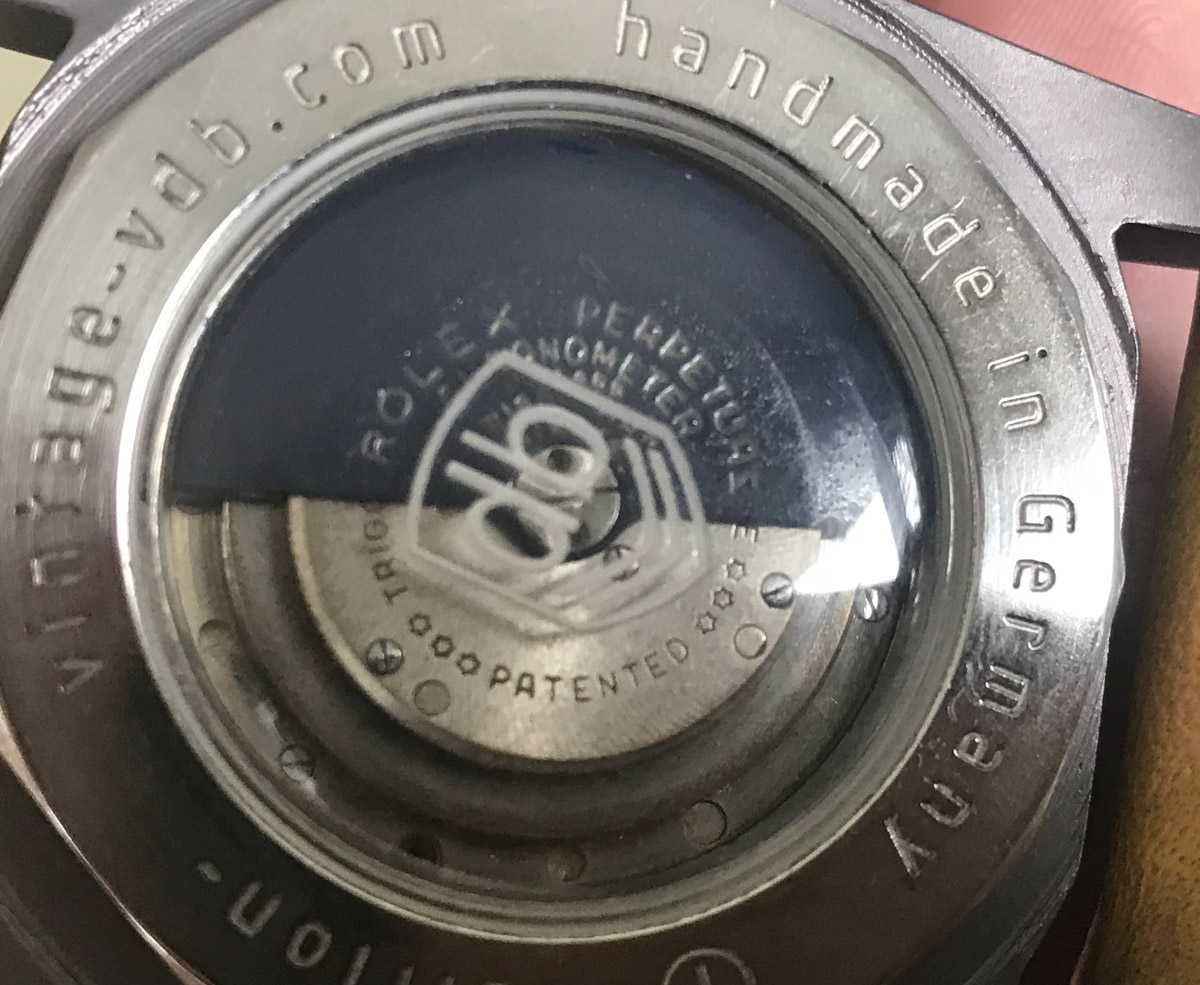 My 4th present from Santa is the 4th ever handmade VDB watch model launched my VDB. This is the SE in bronze, with a stunning green dial & bezel, and a vintage Rolex movement. It is marked I of IV and the rumor is that it is the only one left anywhere to be found. I have never seen another for sale…ANYWHERE! My client, again, was the 1st and only owner until now.
The 5th watch may be the coolest of the entire bag of goodies (except perhaps the 1st one of course). After long discussions with VDB, my client eventually convinced the guys to produce a single-pusher Chrono just for him. The case was made from Tungum which is not used in more than 4-5 VDB watches ever. The movement was provided by my client and is a rare vintage Rolex chronograph movement form the 60s/70s! This watch was made to order for my client and he was obviously the only owner. The design of this single-pusher Chrono was later taken up by VDB for 1-2 other clients but this watch is absolutely unique in terms of material, movement and dial. How many mono-pusher chrono's do you see these days that feature handmade quality and a Vintage Rolex Movement?
The final early Christmas gift from Santa is the 1st ever built VDB watch in Tantalum. I have been and still am a big fan of Tantalum watches (Panerai, AP, etc.) as the weight and color are simply perfect for my taste. My client convinced the VDB guys to give it a shot and produce a piece for him and after many months of trial and error they eventually succeeded to master the material. It weighs almost 0.5kg, has a vintage Rolex movement and comes on a Gunny strap which perfectly matched the dial color. Check this out!
As you can see Santa was very good to me this year! And who knows, make me an offer that I can't refuse and maybe you can celebrate the Holidays this year wearing a one of a kind Vintage VDB!